This memorial website was created in the memory of our loved one,Eugene Cruz Patino. Born December 9, 1972 and was tragically taken on May 6, 2007 at the age of 34. We will remember him forever. You can not lose what you hold in your heart. Please feel free to light a candle in his memory. Thank you for visiting.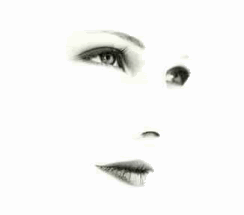 My Son, My Best Friend,
Gene was a loving son, brother, father,
friend and yes, a grandfather.

He survived the drugs, jail, a terrible bike
accident in 2005 and open heart surgery
in 2006.

When he got his life together and surrendered
whole heartily to the Lord Jesus Christ,
he then went home to be with his Creator.

He had the most beautiful eyes.
He had a compassionate heart and the
Ability to make people laugh.

He always showed love to his family and
friends. He left his footprints on the hearts
of many lives.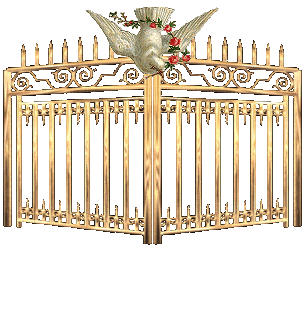 Safely Home
I am home in Heaven, dear ones; Oh so happy and bright! There is perfect joy and beauty in this everlasing light. All the pain and grief is over, every restless tossing passed. I am now at peace forever, safely home in Heaven at last. Did you wonder I so calmly trod the valley of the shade? Oh! But Jesus love illumined every dark and fearful glade. And he came Himself to meet me in that way so hard to tread; and with Jesus arm to lean on could I have one doubt or dread? Then you must not grieve so sorely for I love you dearly still; Try to look beyond earth's shadows, pray to trust our Father's will. There is work still wating for you, so you must not idly stand; do it now, while life remaineth...You shall rest in Jesus land. When that work is all completed, He will gently call you Home; Oh, the rapture of that meeting, Oh, the joy to see you come!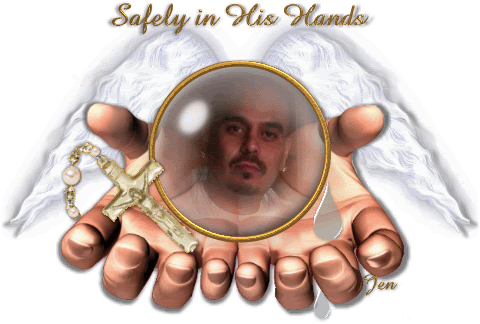 When tomorrow starts without me
And I'm not there to see.
If the sun should rise and find your eyes,
all filled with tears for me.
I wish so much you wouldn't cry
the way you did today.
While thinking of the many things
we didn't get to say.
I know how much you love me
As much as I love you.
And each time that you think of me
I know you'll miss me too.
But when tomorrow starts without me
please try to understand. That an angel came and called my name,
and took me by the hand.
And said my place was ready
in heaven far above.
And that I'd have to leave behind
all those I dearly love.
But as I turned to walk away
a tear fell from my eye.
For all my life, I'd always thought
I didn't want to die.
I had so much to live for
So much yet to do.
It seemed almost impossible
that I was leaving you.
I thought of all the yesterdays
the good ones and the bad.
I thought of all the love we shared
and all the fun we had.
If I could relive yesterday,
Just even for awhile.
I'd say goodbye and kiss you
and maybe see you smile.
But then I fully realized
that this could never be.
For emptiness and memories
would take the place of me.
And when I thought of worldly things
I might miss come tomorrow.
I thought of you, and when I did
my heart was filled with sorrow.
But when I walked through heaven's gates
I felt so much at home.
When God looked down and smiled at me
From His great golden throne.
He said "This is eternity
and all I've promised you."
Today for life on earth is past
but here it starts anew.
I promise no tomorrow
but today will always last.
And since each day's the same day
there's no longing for the past.
But you have been so faithful
so trusting and so true.
Thought there were times you did some things
you knew you shouldn't do.
But you have been forgiven
and now at last you're free.
So won't you take my hand
and share my life with me?
So when tomorrow starts without me
don't think we're far apart.
For every time you think of me,
I'm right here, in your heart.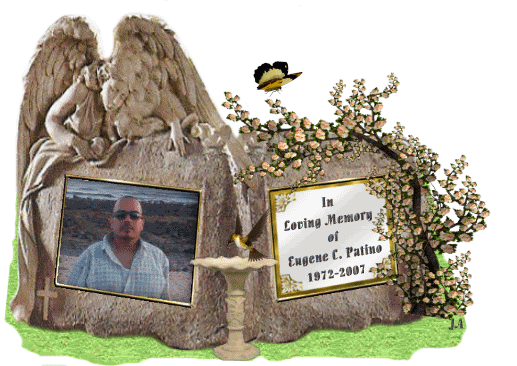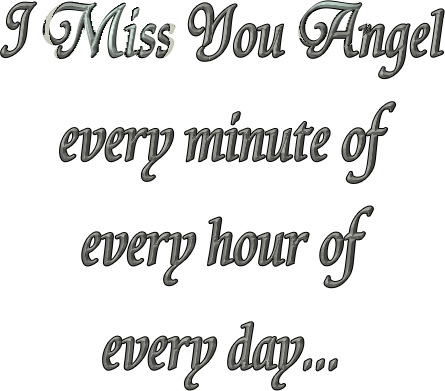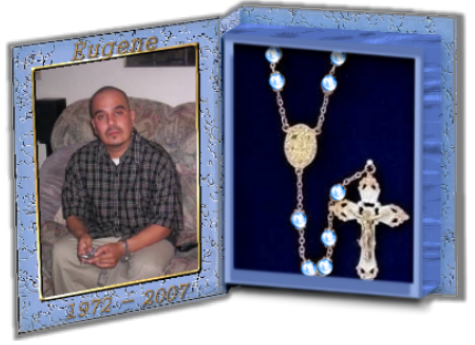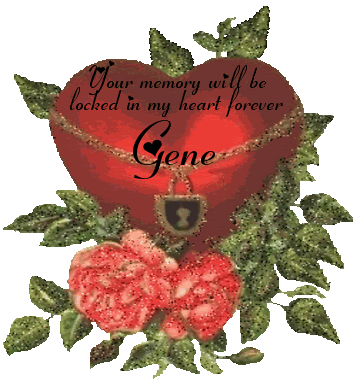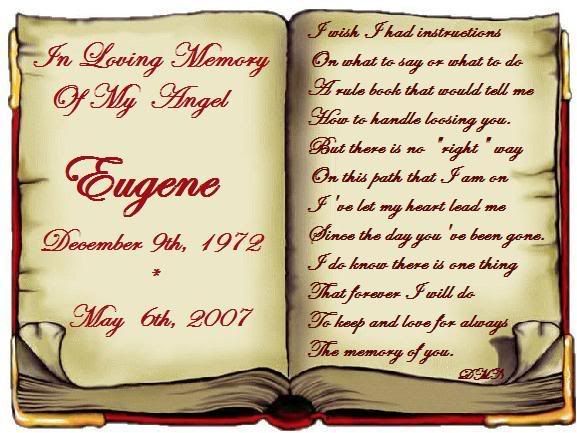 Heaven's gate swung gently open, the Master called softly, "Come," and you, dear one, took the Master's hand, and your work on earth was done. We'll never cease to miss you, and shed many silent tears, because we connot share with you our hopes, our joys, our fears. But one day, in God's garden, when the Master calls us to come. You'll be at the gates with open arms and say to us, "Welcome Home!"
We little knew that morning, that God was going to call your name. If life we loved you dearly, in death we do the same. It broke our hearts to lose you, you did not go alone. For part of us went with you, the day God called you home. You left us peaceful memories, your love is still our guide; and though we cannot see you, you are always at our side. Our family chain is broken and nothing seems the same, but as God calls us one by one, the chain will link again. We miss you and love you so much Gene.
Mom, Leslie and Michele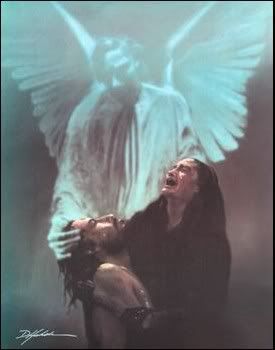 MY SON, MY SON
A cross a mother should not have to carry!
Blessed Mary hear my cries, see my angel thru my eyes. Look into my heart and see what my angel means to me. With your heart so full of love. Protect my angel up above.
These eyes are crying for you.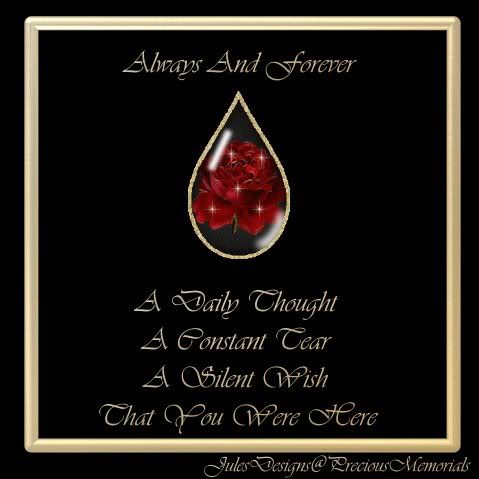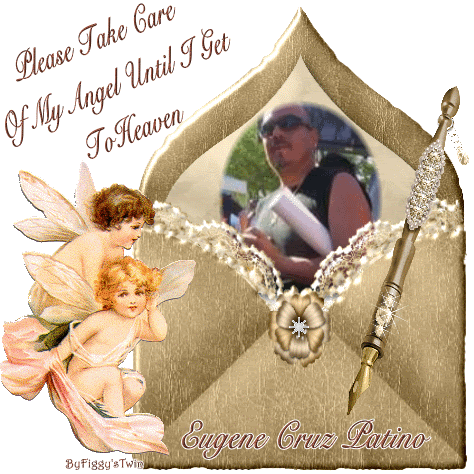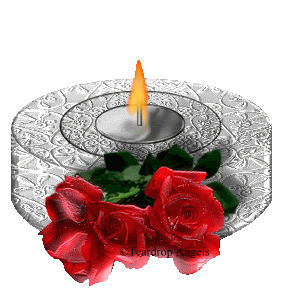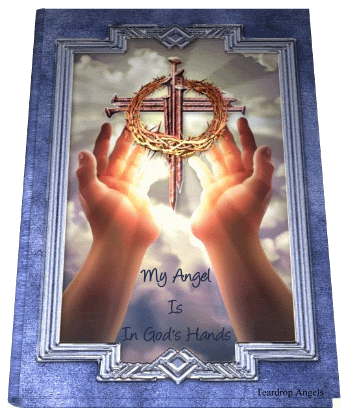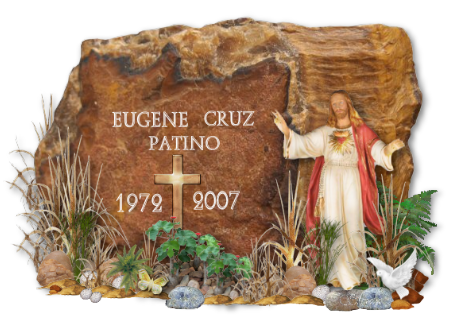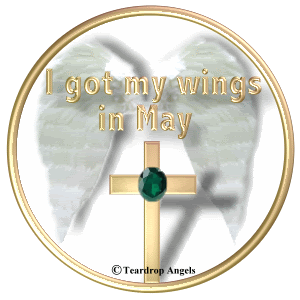 Am I Still a Sister
Am I still a sister, now that he is gone?
And that part of me can never be replaced?
Am I still a sister, to that which death has stolen?
And I cry for the part of me never more to be.
Am I still a sister, though time has torn us apart?
And life is forever changed, different, and displaced.
Am I still a sister, the things we share no more?
And how I miss the times we had, oh so smilingly.
Am I still a sister, without his tender touch?
And is it still the same, this new path I chart.
Am I still a sister, the phone no longer rings?
And never more will I hear his voice, as I wait in wandering.
Am I still a sister without him in my life?
Of course, because you see, he lives now and forever in our hearts!

Love You always and forever, Leslie & Michele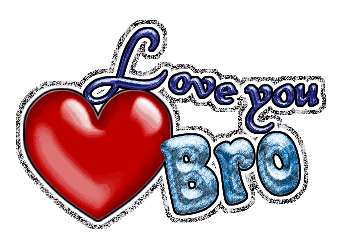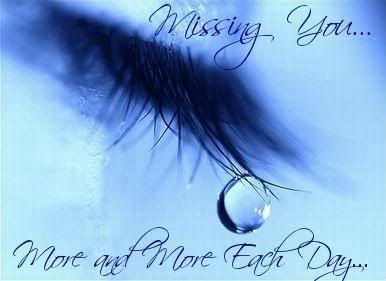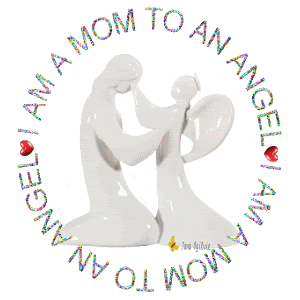 I Was There The Day It Happened
I was there the day it happened, and my heart was rent with grief
As my precious rose lay battered, crushed of petal, torn of leaf
And I cried for all my children who have drained that bitter cup
as their pleas for mercy echoed and their anguish floated up
Please believe me, dearest daughter, this was never my intent
for such pain to be made perfect my Son's precious blood was spent
There is nothing where you're standing that can wholly heal your heart
but believe me when I tell you we won't always be apart
The memories and scents that haunt your dreams and cloud your days
Will one day dissipate and you will truly know my ways
But for now I have a gift for you that just your heart can see
It's a picture I have drawn of two embracing, you and me
The image I will leave with you while you must walk your sod
and you will be my darling girl and I will be your God
So hold it close and don't forget one truth that never died:
Evil will not always boast what Love has crucified

"In the end, nothing makes sense except to trust Him. As rough as this rollercoaster ride gets at times, as often as the questions batter my weary brain screaming for answers that don't readily come, I know in the deepest part of my heart that my Father knows best. " Broken-heart Mom

(POMC) National Memorial Ribbon.
The Red represents the violence in society and the
black symbolizes death and mourning. Angel pins are
worn with the ribbons to symbolize the victims.



I read this poem at Gene's service.


My dearest Son, how I wish you were here. The days and night go by and I can feel you near.

You were taken so suddenly, at a very young age. I fight all the feelings, but I'm still filled with rage.

The people who killed you, I hope and pray that they get caught, the ones who took you, and gave me this hell.

I pray you are happy, I know you are free. But it doesn't heal my heart, when here is where you should be.

I wait for you to come home, just out with your friends. But I know that won't happen, those people brought it to an end.
My heart is so heavy, it's been torn from my chest. How could God have taken, one of his very best

I suppose life will go on, for your sisters and me. And one day your beautiful face, again we will see.

Love You, Mom


A Prayer For My Son
Into your hands, O Lord, I humbly entrust my son Gene. In this life, you embraced him with your tender love; deliver him now from every evil and bid him enternal rest.The old order has passed away because you gave us your only Son as our Redeemer. Through the Passion, Death and Resurrection of Jesus Christ, welcome him into paradise, where there will be no sorrow, no weeping nor pain, but the fullness of peace and joy with your Son and the Holy Spirit forever and ever. Amen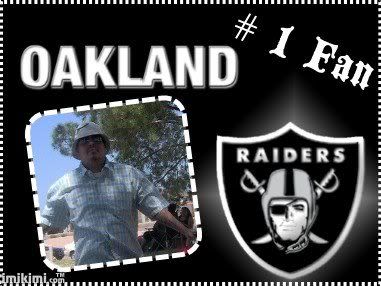 Ask my Mom how she is.
My Mom, she tells a lot of lies she never did before,
but from now until she dies she'll tell a whole lot more.

Ask my Mom how she is, and because she can't explain,
she will tell a little lie because she can't describe the pain.

Ask my Mom how she is she'll say "I'm alright."
If that's the truth then tell me why does she cry each night?

Ask my Mom how she is she seems to cope so well.
She didn't have a choice you see nor the strength to yell.

Ask my Mom how she is "I'm fine, I'm well, I'm coping."
For God's sake Mom just tell the truth, just say your heart is broken.

She'll love me all her life, I loved her all of mine.
But if you ask her how she is she'll lie and say she's fine.

I am here in heaven I cannot hug from here.
If she lies to you don't listen. Hug her and hold her near.

On the day we meet again we'll smile and I'll be bold.
I'll say, "you're lucky to get in here Mom with all the lies you told."


The Invisible Cord
We are connected my child and I by an invisible cord, not seen by the eye. It's not like the cord that connected 'til birth, this cord can not be seen by anyone on earth.

This cord does its work right from the start. It bonds us together, attached at the heart. I know that it's there though no one can see. The invisible cord from my child to me.

The strength of the cord, it's hard to describe. It can't be destroyed, it can't be denied. It's stronger than any cord man could create, it whitstands the test, can hold any weight.
And thou you are gone, though you're not here with me.The cord is still there, but no one can see. It pulls at my heart. I am bruised. I am sore. But this cord is my lifeline as never before.


I am thankful that God connects us this way A mother and child , death can not take it away.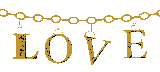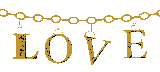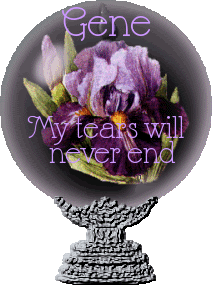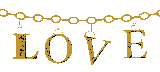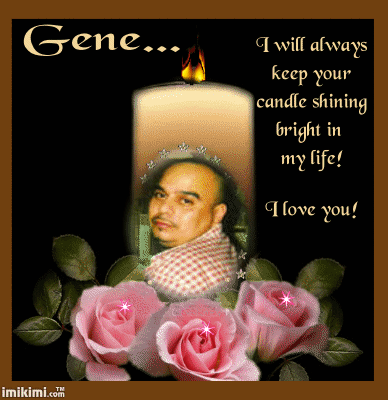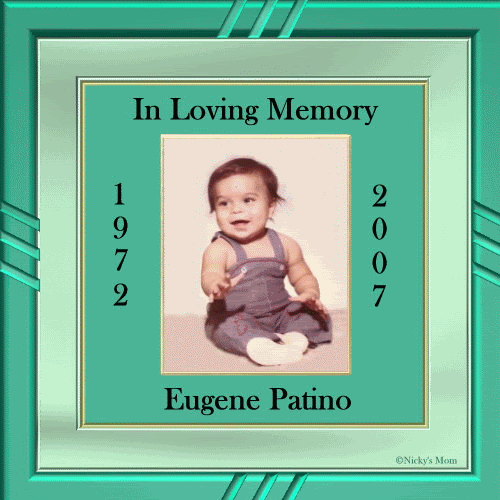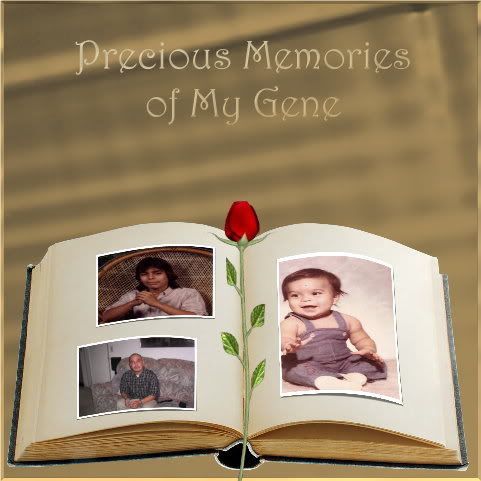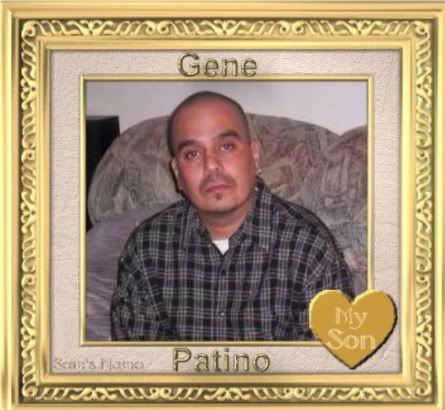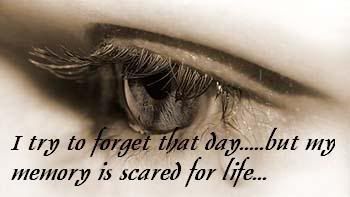 My heart longs for you,
my soul dies for you,
my eyes cry for you,
my EMPTY arms
reach out
for you.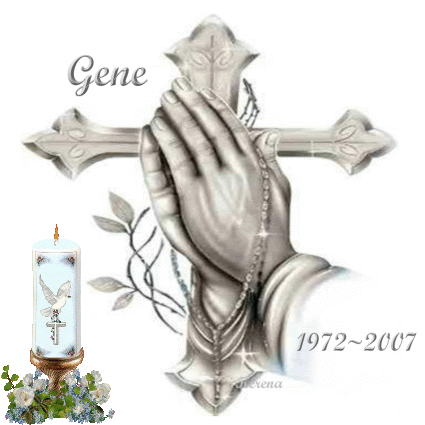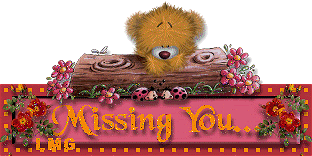 Jesus, hold my son Gene tight until I arrive.